My local weekly Dance of Elemental Alchemy class has been done in by social distancing, so we're moving online.
PLEASE NOTE: This is a Level 2 course. Students should have prior experience in dance, particularly belly dance or classical Western training like modern or jazz. This is predominantly a concept course designed to also give a workout, so very little breakdown of steps or dance basics will be covered. Combinations and flow drills are meant to be loosely followed and adapted to your own dancing, not learned as memorized choreography.

A Basic Tools & Toys course will be forthcoming to cover things like posture, alignment, and the skills specific to the Hartebeast System and Elemental Alchemy curriculum. I only started with Level 2 as a temporary measure for my local students. But the virus is here to stay, so therefore, so is this material--now open for general enrollment.
THIS BETA VERSION
This course still has the Alchemy Module to be completed. After that, the course will run as drip-content, one element per week. Until that time, I do still recommend doing a weekly immersion to more deeply encode each element into your system and your life.
For those joining us while the course is still being produced, you will have the chance to request additional breakdown instruction for techniques and concepts you're having trouble with. I will not be covering Level 1 content in this series.
All the videos are downloadable, so you can make playlists of any length, flavor, or focus you desire. Want a 3 minute shimmy-shake-break during work? Want a 15 minute power-whupp? Want a half-hour of breath, tranquility and flow? Make 'em! Or you can use the hour-long elemental immersions that I've created without any instructional interruption.
In addition to the expressive nature of each element, you'll also be learning Musicality through osmosis. For the entire course, we use the same playlist, seeking and discovering each element within these pieces of music.
THE MODULES
--Earth
--Air
--Fire
--Water
--Metal
On week 6 is Alchemy, the process of putting the elements together either in simultaneous layers, in combinations, or in succession according to the music. It is the place where Concept meets Creation, and where drills are transformed into Dance.
Throughout the series, bonus instructional breakdown material is dependent upon the original registered students' desires and needs.
THE STYLE
The Dance of Elemental Alchemy has five main movement influences:
--Belly Dance
--Ecstatic Dance
--Modern Dance
--Martial Arts
--Hints of the many other dance forms I've studied: ballet, jazz, ballroom, tap, Irish, Flamenco, Mexican Folklorico, Odissi, Bollywood, Polynesian Dance
You just never know which styles might weave together for any given song. The Dance of Elemental Alchemy is not about traditional formats or studying specific styles. It is about expressing the emotions evoked by a piece of music through the medium of movement. The vocabulary just happens to be what I'm trained in, and it will shift as I learn more forms. As such, students are encouraged to bring in the different hues from their own paint palettes--to make it their own.
I don't want to make mini-mes. I want to make Mega Yous.
I long to reach out beyond borders. Beyond "ownership." Beyond the "right and wrong" ways of moving, interpreting, executing, expressing. This style is inspired by the forces that bind us all.
--We all need Air to survive.
--We all need Water.
--We all need the Fire of our star and that which dwells at the core of this planet.
--We all need protection from the Elements and from that which would harm us.
--We all need the Earth.
Categorization of movement theories are divvied into Element according to:
--where the movement initiates from
--what kind of route the movement takes
--how the movement finishes
--what qualities the movement embodies
--if the movement is natural or muscular in composition
If you still have no idea what I mean, check out the trailer--click the Watch Promo button at the top of this page. You can also get a taste of the course in this playlist on my YouTube Channel.
Come hop aboard the Good Ship Hartebeast! Join us in the first ever ONLINE version of The Dance of Elemental Alchemy. Welcome!
Your Instructor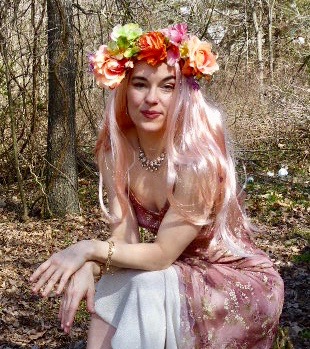 Nicknamed BellaDancer in college, Isidora has been a dancer and writer all her life. Her degrees through the U of MN are in History and Dance, and she has studied various stage & folk dances from around the world, blending them with her decades of martial arts training, meditative and soul-searching practices, and with her love of storytelling and theater.
While her 25-year career as a belly dancer has taken her around the world to teach and perform, her entanglement with a drunk driver in 2000 has taken her into the depths of rehabilitation and continuous self-reinvention.
The drills she created for herself during physical therapy are now a foundation of her dance technique. In contrast, her Elements System explores musicality, expression, the qualities of movement and the impact it has on our life. As an artistic athlete with injuries from foot to head, including Traumatic Brain Injury, she is a creative solution ninja hacker. This System is a main component of that.
Isidora is hailed as an innovator, Muse, benevolent butt-whupper, and healer. Both Bella and the 'Beast of Hartebeast Lair, she is an elemental alchemist, devoted to transforming life's beauty and crappioka pudding into art.
Course Curriculum
DANCE OF ELEMENTAL ALCHEMY - Level 2 Weekly Workouts
Available in days
days after you enroll
EARTH - Getting Started
Available in days
days after you enroll
Earth 1 - Warmup
Available in days
days after you enroll
Frequently Asked Questions
When does the course start and finish?
The course starts now. It is a Beta Version, still being developed. Once complete, the curriculum will be delivered as a weekly drip system, to allow a full immersion into each element before moving on. Other than that, it is a completely self-paced online course - you decide when you start and when you finish.
How long do I have access to the course?
How does lifetime access sound? As long as Teachable exists, this course will remain available to you online, available across any and all devices you own. Or you may download any of the lessons you want to keep permanently.
What if I am unhappy with the course?
We would never want you to be unhappy! If you are unsatisfied with your purchase, contact us in the first 30 days and we will give you a full refund.
What sort of experience or training should I have to get the most out of this course?
This is a weekly workout course designed for my Level 2 students. Having at least intermediate training in belly dance or a classical Western technique like modern or jazz, even something like salsa, will give you a leg up to stepping into this class even if you've never studied with me before. There will be very little breakdown of technique or basics in this course, except reminders of good alignment, posture and safety practices.
What if I really want to learn this, but I don't have prior dance experience?
Contact me! (Top right corner avatar.) The more newcomers who express interest, the faster that I will make the creation of a Level 1 course a high priority.